photos by Greg Flack
Los Angeles straight edge band BERTHOLD CITY has completed work on their first official full-length LP, When Words Are Not Enough. Confirming the album for March release through WAR Records, the cover art, track listing, preorders, and more have been issued, and the lead single, "With This Regret," is now playing at No Echo.
Formed in 2017 by vocalist Andrew Kline (Strife, World Be Free), BERTHOLD CITY's lineup is rounded out by guitarist Dennis McDonald (Internal Affairs), drummer Adam Galindo (Abrasian, One Choice), bassist John Eightclip (Allegiance), and guitarist Dave Itow (The Mistake). The band released a three-song demo in July of 2017 and quickly followed it up with the release of both the Moment Of Truth and What Time Takes 7" EPs. Since their formation, BERTHOLD CITY hit the ground running and completed short tours on both East and West coasts with Terror, Regulate, Fireburn, Change, Scowl, Kill Your Idols, and more. Locally they have shared the stage with bands such as Sick of it All, Judge, Shelter, Agnostic Front, Youth of Today, Dare, Drain, Take Offense, among others.
With twelve foundational tracks of hard hitting, anthemic hardcore, When Words Are Not Enough will solidify BERTHOLD CITY into the forefront of modern hardcore. The album was recorded and mixed at Jet To Mars Studio by Nick Jett (Terror), mastered by Brad Boatright at Audiosiege (Integrity, Jesus Piece, God's Hate), completed with cover art and design by Jeremy Dean, and features a guest appearance from Jason Mazzola (Count Me Out) on "Left With Nothing."
With the LP's lead single, "With This Regret," vocalist Andrew Kline reveals, "This song is about the realization that there is no second chance when it comes to your life, and that we should live so that we have no regrets when we die. It's so easy to lose focus of what is really important, and that is finding what makes you happy and what makes your life worth living."
No Echo writes with the song's premiere, "If you aren't familiar with the California band yet, BERTHOLD CITY features musicians with discography credits in such bands as Strife, Abrasion, and Internal Affairs, and their style is a potent elixir of breakneck tempos, tension-building breakdowns, and rousing lyrical sections that stick in your head after the first listen… Today, I'm excited to premiere 'With This Regret,' the blitzing closing track from When Words Are Not Enough. Peep the mosh tease at the end…"
Hear BERTHOLD CITY's "With This Regret" first through No Echo now at THIS LOCATION.
Kline's label WAR Records will release When Words Are Not Enough on March 18th, digitally, on CD, and on multiple vinyl variants including 25 test presses, 100 Glow In The Dark with Japanese OBI Strip (WAR Records Exclusive), 200 Orange Splatter (WAR Records Exclusive), 200 Green in Ultra Clear (Merchpit Exclusive), 200 Gold (Coretex/Programme exclusive), and 300 Tricolor Swirl (RevHQ exclusive).
Physical preorders are now live at the label webshop HERE and through each partner outlet. Digital preorders are live at Bandcamp HERE.
Watch for audio premieres, official videos, live dates, and more to post over the weeks ahead.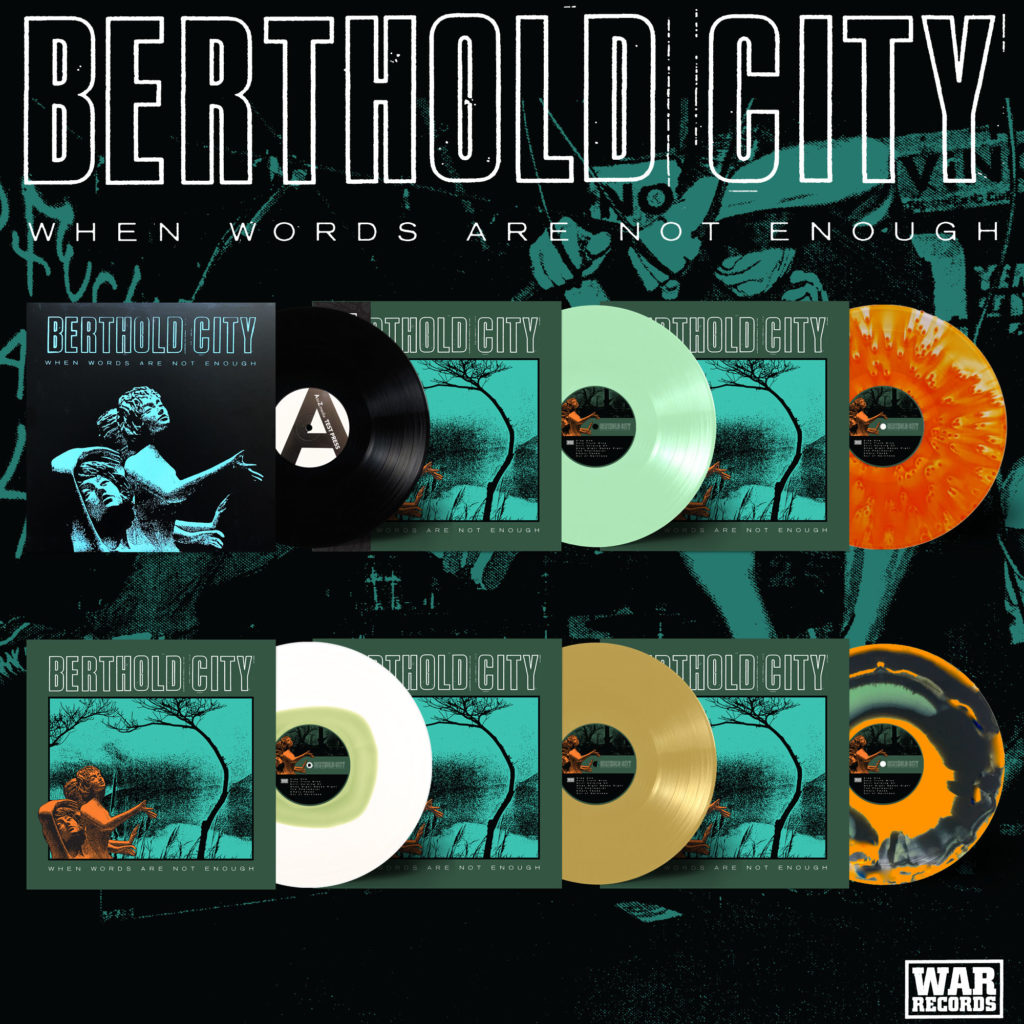 When Words Are Not Enough Track Listing:
1. Only Truth Wins
2. Still Holding On
3. When Might Makes Right
4. The Pharmacist
5. Empty Faces
6. Out Of Darkness
7. Turn It Around
8. Break The Chain
9. Flashing Lights
10. A Better Way
11. Left With Nothing
12. With This Regret
https://bertholdcityhc.bandcamp.com
https://www.facebook.com/bertholdcity
https://www.instagram.com/berthold_city
http://www.war-rec.com
http://www.facebook.com/WARRECORDS.HC
http://www.instagram.com/WARRECORDS
http://www.twitter.com/WARRECORDS1
The post BERTHOLD CITY: California Hardcore Act With Members Of Strife, Internal Affairs, And More To Release When Words Are Not Enough LP Via WAR Records; Hear "With This Regret" At No Echo + Preorders Posted first appeared on Earsplit Compound.