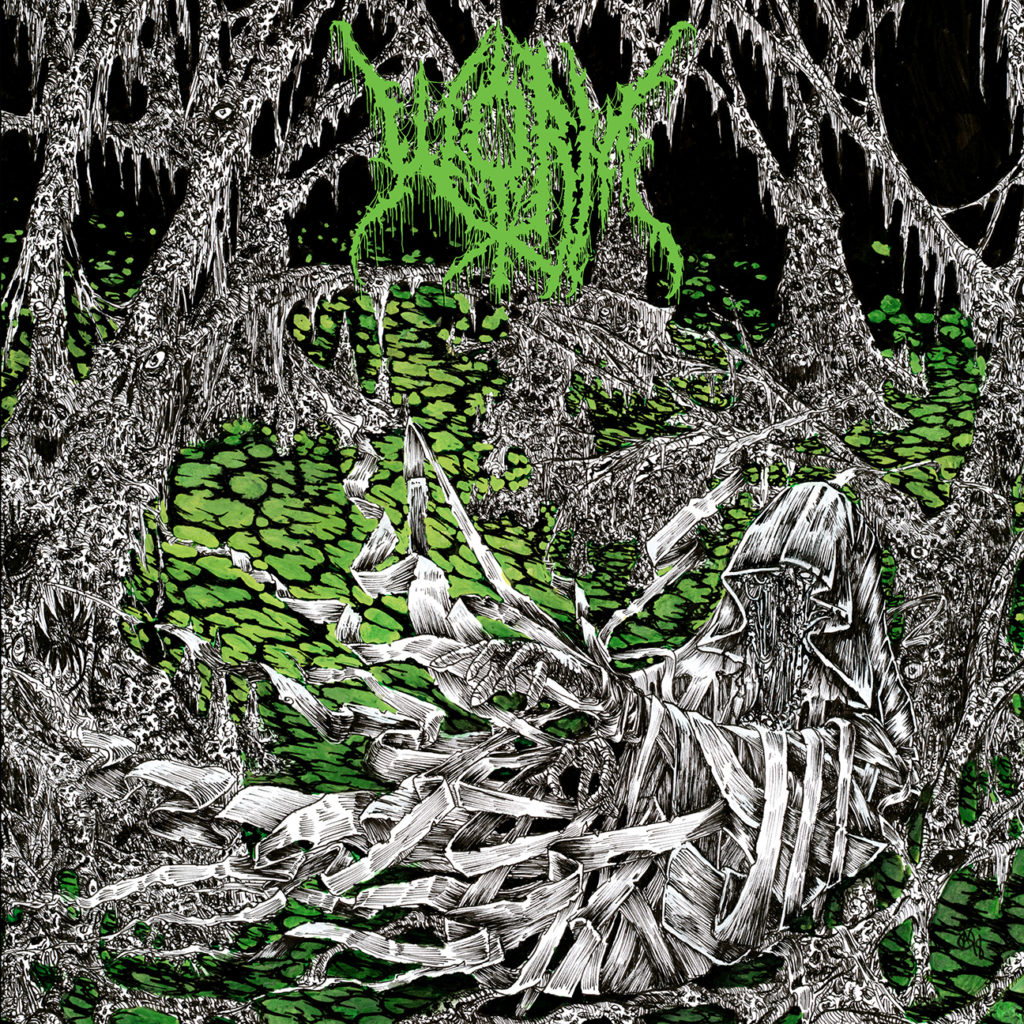 WORM's second album, the early 2020 release Gloomlord, was a precursor to the massive impact that would make the world tremble on 2021's Foreverglade. A large stylistic leap forward from WORM's Evocation Of The Black Marsh debut album, Gloomlord brought the band to wider attention and the Floridian funeral doom contained within has since amassed a cult-like following of its own.
Until now, Gloomlord has been a somewhat difficult score in the States and often unavailable. As such, with the band now firmly at home on 20 Buck Spin and looking to make its first live appearances in 2023, it was time to sate the increasing demand and make Gloomlord easily available to the masses.
Gloomlord was recorded in June of 2018, with Phantom Slaughter handling guitars, vocals, and synth, Equimanthorn performing drums and bass, and Nihilistic Manifesto providing additional guitar solos, and the album completed with artwork by Yuri Kahan. As an added bonus, the album has here been completely remastered by Greg Chandler of funereal legends Esoteric at Priory Recording Studios in the UK. And like the Foreverglade and Bluenothing vinyl releases, the reissued Gloomlord now comes with a huge poster insert. With those added aspects, lead progenitor Phantom Slaughter considers this the definitive version of Gloomlord. Fans of Disembowelment, Winter, Goatlord, Unholy, Esoteric, Evoken, Slimelord, Atramentus, and Burial must obtain this record.
WORM's Gloomlord is now streaming at Bandcamp HERE and YouTube HERE.
Gloomlord is now available on all digital platforms through 20 Buck Spin, with CD, LP, and cassette versions due on January 20th. Find preorders at the label webshop HERE.
WORM's first ever live performances will transpire in the Spring, the collective confirmed to play at Saint Vitus Bar in Brooklyn on April 13th. The band has also been confirmed as one of the performers at the 2023 edition of Decibel Magazine's Metal & Beer Fest on April 14th and 15th in Philadelphia where the collective will share the stage with the likes of Suicidal Tendencies, The Black Dahlia Murder, Eyehategod, Incantation, All Out War and more. Stand by for additional transmissions over the months ahead.
WORM Live:
4/13/2022 Saint Vitus Bar – Brooklyn, NY [info]
4/14-15/2023 Decibel Metal & Beer Fest @ The Fillmore – Philadelphia, PA [info]
"Gloomlord is one of those magnificent albums that is likely to hook the right kind of listener immediately on the sheer strength of its holistic sound and vision, but it will continue to reveal careful detail the more and closer one listens." – Last Rites
https://www.instagram.com/wormgloom
https://wormgloom.bandcamp.com
https://www.20buckspin.com
https://listen.20buckspin.com
https://www.facebook.com/20buckspin
https://twitter.com/20buckspinlabel
https://www.instagram.com/20buckspinlabel
The post WORM: 20 Buck Spin Reissues Gloomlord LP By Floridian Funeral Doom Entity first appeared on Earsplit Compound.