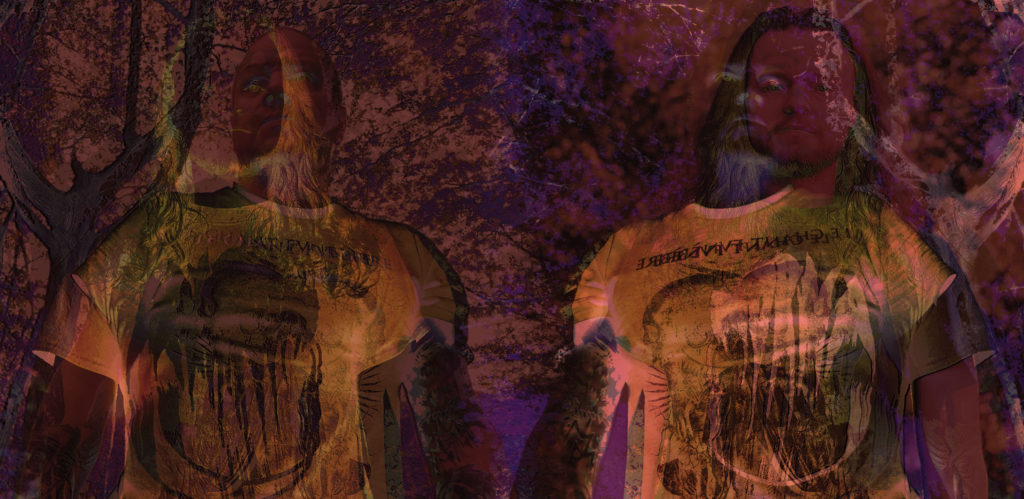 New experimental/post-industrial outfit DIMINISHING presents their first video, created for their harrowing new single, "An Emptiness." The song is the opening track to the band's debut album, The Unnamable, nearing June release on Anti-Corporate Music.
Formed in early 2019 by New York-based Gridfailure creator Dave Brenner and Texas-based Yatsu guitarist Lane Oliver, DIMINISHING is a tense, emotionally devastating project that paints in shades of industrial, dark ambient, drone metal, noise, and more. On The Unnamable, semi-improvisational, destructive guitar work collides with haunting atmospherics, mechanical rhythms, and walls of cacophony to create a soul-crushing sound that resides somewhere between Godflesh, Nurse With Wound, Merzbow, Khanate, and Nine Inch Nails' The Downward Spiral, while thematically exploring existential crises, anxiety in the face of the unknown, and personal failings.
DIMINISHING's The Unnamable was performed, recorded, and mixed by David Brenner and Lane Oliver, the dense tracks constructed with a wide range of vocals, guitars/bass, keys/synth, percussion, field recordings, and more. Mastering for the album was handled by Dan Emery at Black Matter Mastering (Kool Keith, Chrome Waves, Thetan), and the record is completed with photography, design, and videos created by Brenner.
Oliver reflects on the new single, "'An Emptiness' opens the record on a nihilistic note. The 'narrator,' if you will, muses on the futility of existence. It's a theme that appears repeatedly on the record, but it is also a theme that is purposely contradicted in some passages. The push-and-pull between pessimism and the desire for meaning flows throughout The Unnamable to capture the emotional turmoil of existential crises. The video for 'An Emptiness' showcases the bleakness of the song in visual form. Images of barren woodlands, dilapidated structures, and us at our most morose, work in tandem to illustrate the hopelessness the song invokes."
Watch DIMINISHING's "An Emptiness" video on YouTube at THIS LOCATION and stream the song at Bandcamp HERE.
The Unnamable will be released on deluxe cassette and all digital platforms on June 16th. Find preorders at the Anti-Corporate Music shop HERE and DIMINISHING's Bandcamp where "The Rats I've Fed" is also streaming HERE.
Watch for additional videos and more on the album to post over the weeks ahead.
https://linktr.ee/diminishingnoise
https://diminishing.bandcamp.com
https://www.instagram.com/diminishingnoise
https://twitter.com/diminishingband
https://www.facebook.com/diminishingnoise
https://anticorpmusic.com
https://facebook.com/anticorpmusic
https://www.instagram.com/anticorpmusic
http://www.blackmattermastering.com
The post DIMINISHING: Ominous "An Emptiness" Video/Single Now Playing; New Band From Gridfailure And Yatsu Members Prepares For June Release Of Debut Album, The Unnamable, On Anti-Corporate Music first appeared on Earsplit Compound.