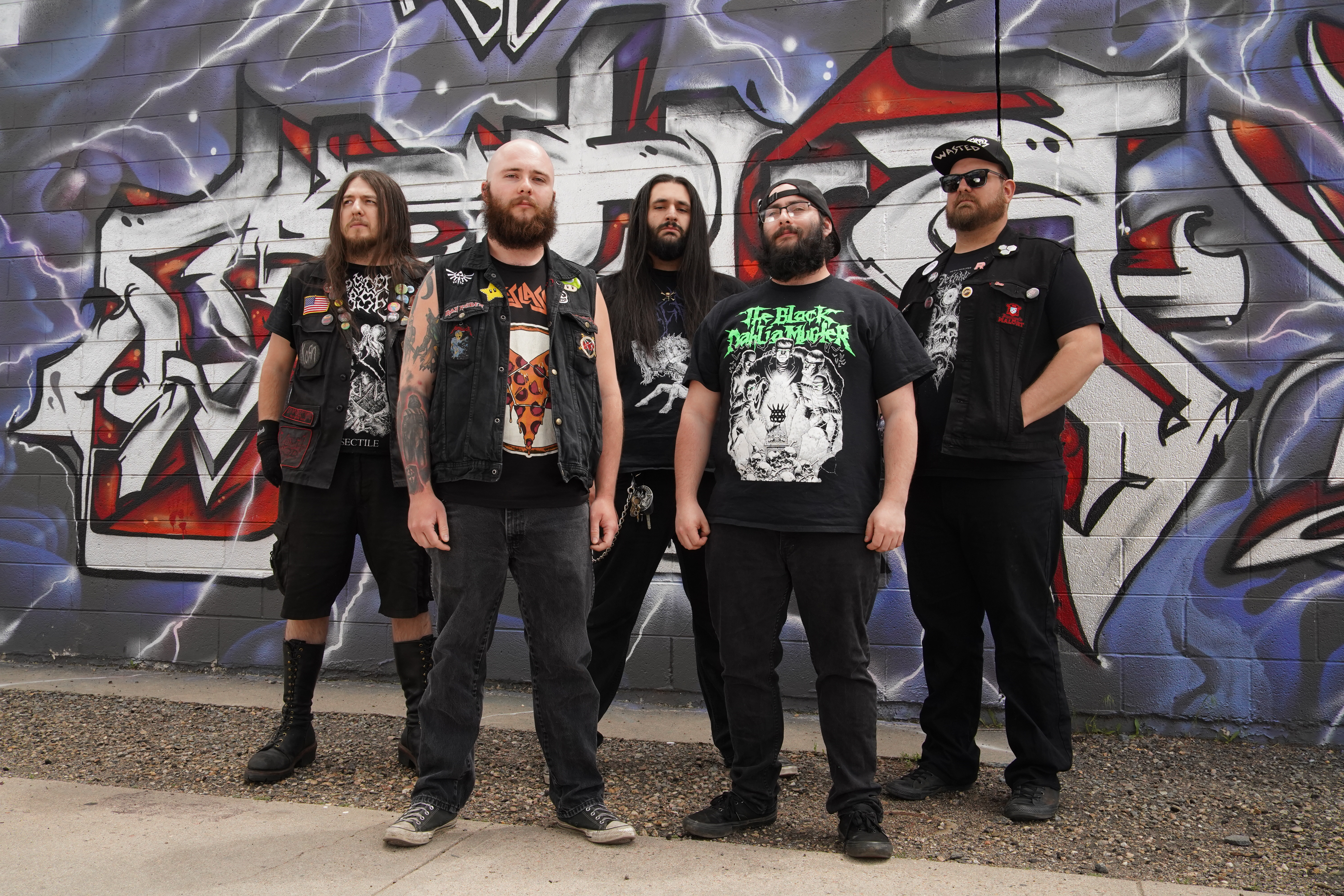 Photo and interview by: Amy Asche
Resident Rock Star Magazine interviews members of the band Human Paint, David Assari, David White, Joey Veca, Charlie Sujeta, and Aaron Martinez. Piecing together their origin story, evolution and future, Human Paint discuss how they overcame their challenges and turned obstacles into opportunities, becoming a group of individuals committed to their passion for creating heavy, powerful music.
Formed back in 2012 during their middle school years, founding members David Assari and David White, had an albeit cringe-worthy start with a drummer sporting a fedora and David wearing a Burger King crown during their first-ever show in 2015 at The Roxy. The band underwent several transformations, changing its name from 'Dead by Mourning' to 'Carrion Tree', before finally settling on 'Human Paint'.
Their music is a blend of classic death metal, with influences from Cannibal Corpse and Dying Fetus. With drumming inspirations from Amon Amarth and Anthrax and a nu-metal touch courtesy of band member Aaron's love for Korn and Limp Bizkit, Human Paint brings a fresh take on the old school Death Metal sound.
Their songwriting process has evolved over the years, going from jam sessions to spearheading song ideas outside of band practices. Despite each member leading busy lives, their shared passion keeps them motivated. Music to them is what makes life worth living. Practicing after work and sticking to a routine has helped White to maintain focus and push the boundaries of his own abilities. 
Their crowd-favorite live song 'Vindictive Demersion' has just finished tracking and is anticipated by fans to hit streaming platforms soon. When preparing for a show, the band has various rituals, with a common thread being the shared moments amongst the band members and making connections with the fans. 
When asked about their biggest accomplishment so far, the band unanimously agreed that it was bringing their 5-year old fan Dillion on stage at The Roxy. The shared joy in music, especially with such young fans, is the core of everything Human Paint stands for. 
Despite their humorous admission that their interaction with fans on social media falls on 'David', the Human Paint guys have consistently improved their online presence, being active across multiple platforms including Instagram, Tiktok, and Facebook. They have learned to take criticisms and negative feedback in stride, using them as steppingstones for continuous growth. 
With an LP on the horizon and a craving to perform live once again, Human Paint is excited for what the future holds. Assari believes success is measured in doing what you love, and for the members of Human Paint, the dream is very much alive every day. The band encourages aspiring musicians to pursue their passions, overcome their fears and doubts, and 'just do it'. After all, as Assari concludes with a quote from Dio, "Dreamers never die."
Stay on top of Human Paint's upcoming projects and performances through their website www.humanpaintband.com or their social media platforms @humanpaintband. With passion, dedication, and a brave approach to bringing the old-school Death Metal into the modern light, Human Paint certainly promises to continue rocking and will undoubtedly continue achieving great heights in the music industry.