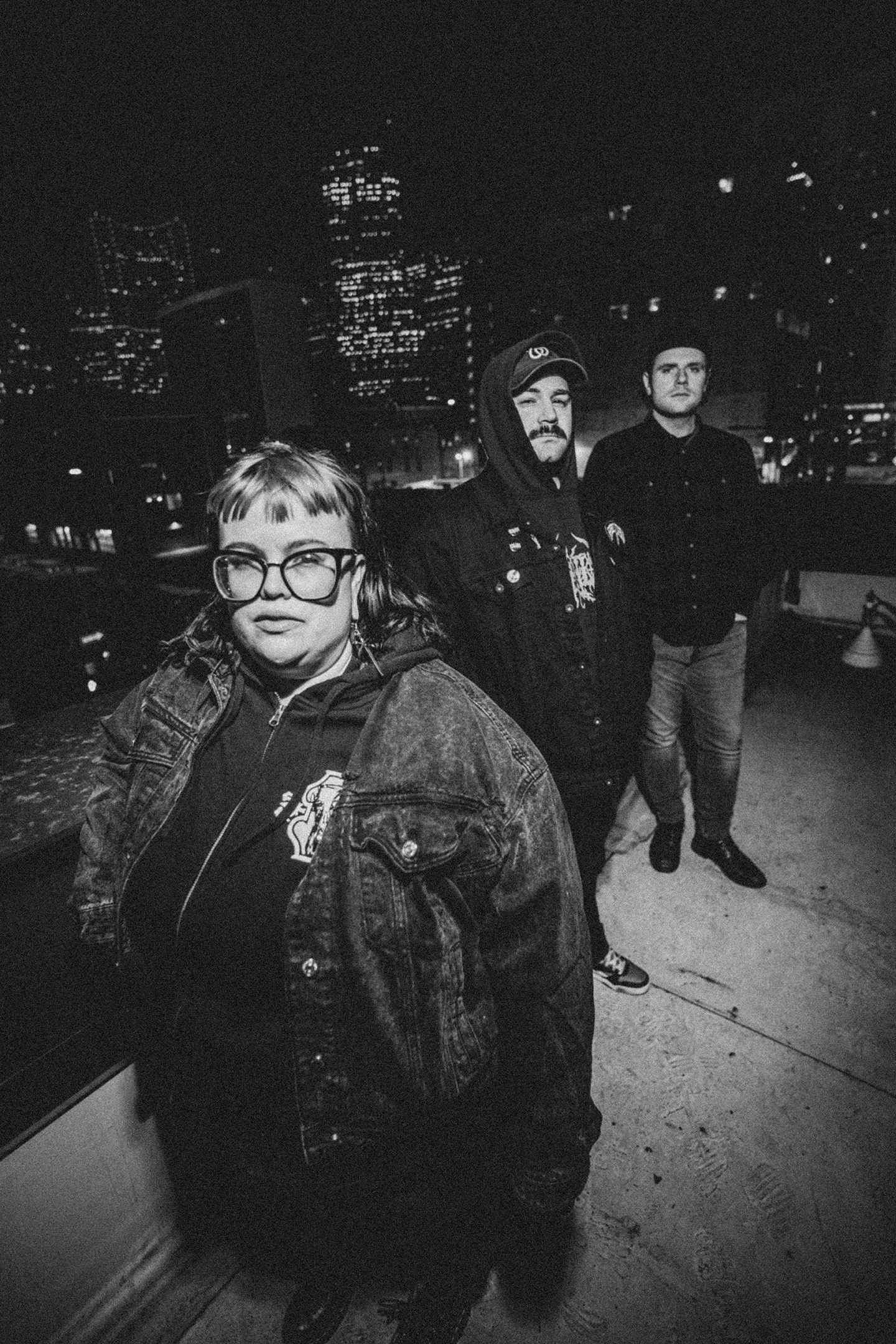 photos by Julius Garrido
Malicious Regression, the new EP from Colorado death metal trio CRONOS COMPULSION, is out today through Caligari Records.
CRONOS COMPULSION was formed in Denver in October 2021 by drummer/synth player Jon Linksey and guitarist/vocalist Wil Wilson who were subsequently joined by bassist/backing vocalist Addison Herron-Wheeler following a one-off live performance. That year saw the release of their Reject Humanity demo, followed by their debut EP, Cursed And Decaying, released through Caligari Records. 2022 saw the band performing regularly in their hometown and regionally, including playing at Decibel Magazine's Denver Metal & Beer pre-fest, as well as touring the West Coast and Southwest, and saw the release of a split with hometown act Seed Of The Sorcerer Womb Of The Witch through Alchemical Annihilation Records.
Having since honed their brutal delivery, CRONOS COMPULSION keeps things as heavy as possible on their new EP, Malicious Regression. With five new movements, the band incorporates jagged riffage and elements of ambient noise and other dissonant sounds into their low-end doom-shrouded death metal assault. Malicious Regression was recorded, mixed, and mastered by Austin Minney at All Aces Studios, and completed with artwork by Lucas Valtenbergs (Rusted Winds), photography by Julius Garrido, and layout by Ignacio Brown.
With EP about to be released, Wilson states, "We are beyond stoked to have this EP out in the world. We'd like to think it's a bit heavier and more polished in the first, but that's for y'all to decide. Either way, it's heavy, loud, and mad at the human condition."
Stream CRONOS COMPULSION's Malicious Regression now at THIS LOCATION.
Caligari Records will release Malicious Regression on cassette and digital this Friday, May 12th. Order the CD which contains the band's Cursed And Decaying debut and the cassette through the label HERE and digital through the band HERE.
CRONOS COMPULSION continues to perform regularly with more widespread touring plans in the works. See confirmed dates below and stand by for updates.
CRONOS COMPULSION Live:
5/13/2023 Seventh Circle Music Collective – Denver, CO w/ Vacha, Intersect, Burn Unit
"Death metal is at its finest when the songs are about cutting shit into bits and pieces… CRONOS COMPULSION keeps things moving briskly." – Decibel Magazine
"…this trio goes for broke, pouring as much vitriol as possible into this effort, making it certain they are deadly serious and willing to claim victims. This should be the start of a devastating run for a band that sounds on the cusp of doing something massive." – Meat Mead Metal
"Malicious Regression is trog death at its simplest, and you'll only need two things to enjoy it: a head to bang, and a comically large wooden club to bang other heads with. After all, what is a malicious regression if not a return to monke?" – Toilet Ov Hell
"…this death metal is always addictive, and I don't get bored even if it sounds the same or with a sound that has already been explored and exploited for a long time… it will always be a pleasure to listen to music like this. [translated]" – Metallerium
"Their style is very much in the realm of today's popular USDM lean with a mix of very simple riffs written for one guitar, '90s groove/hardcore beats to break things up, and a blasting death kick or two whenever the mid-paced skullduggery of it all calls for some atmosphere." – Grizzly Butts
"Malicious Regression uses that pressure to allow CRONOS COMPULSION to be on the right path towards a potential spectacular future debut full-length." – Heavy Music Headquarters
https://cronoscompulsiondeath.bandcamp.com
https://www.facebook.com/cronoscompulsion
https://www.instagram.com/cronoscompulsion
https://caligarirecords.bandcamp.com
https://www.facebook.com/CaligariRecords
https://www.instagram.com/caligarirecords
https://caligarirecords.storenvy.com
https://www.youtube.com/c/CaligariRecords
The post CRONOS COMPULSION: Malicious Regression EP From Denver Death Metal Trio Out Today On Caligari Records first appeared on Earsplit Compound.