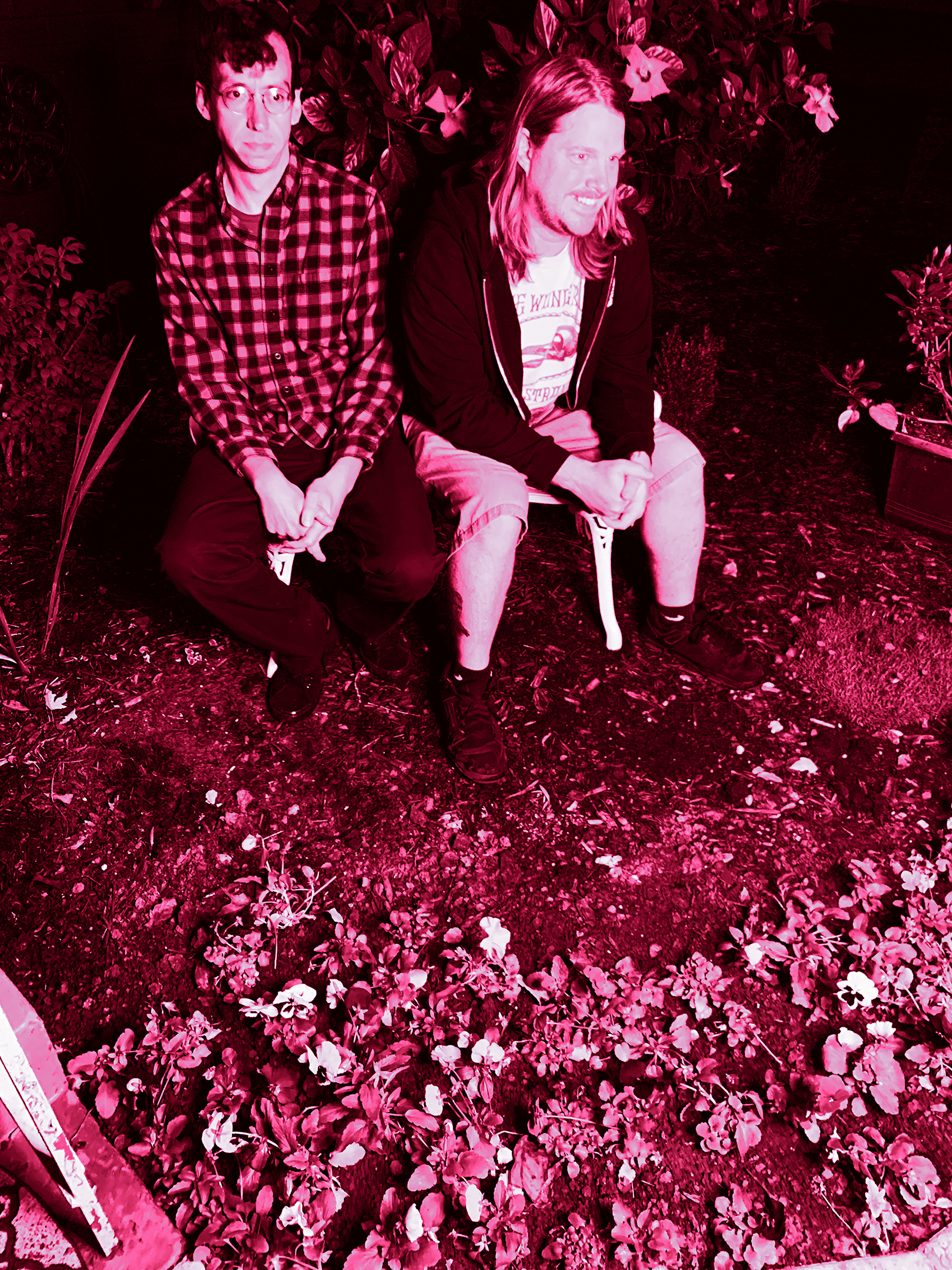 photos by Ericka Poore
Nashville-based hardcore/powerviolence duo THETAN presents their Dim Times EP, out now on their own Anti-Corporate Music.
THETAN has produced an arsenal of LPs, EPs, splits, and collaborations since their formation in 2011. Over the past several years alone they've released the Space Goretex collaboration LP with Bronx rapper Kool Keith which included guests from Gwar, Three 6 Mafia, Dwarves, Lost Dog Street Band, and more, followed by the "Based Serenade" single with Lil B, and for Record Store Day 2023, they released their new collaboration with the legendary NYC hip-hop outfit Ultramagnetic MC's, having provided the backing music for a new Record Store Day etched 12" single.
While THETAN is currently putting the final touches on their new LP for release later this year, the band offers a succinct new EP, Dim Times, collecting several new and previously unreleased tracks, re-recorded songs, covers of The Dwarves and Wipers, and more, the EP drops six tracks in under ten minutes. Additionally, the CD version features over forty bonus tracks, including nearly all the band's vinyl-only split and compilation tracks, demos, and more, all remixed and remastered for this release.
THETAN bassist/vocalist Dan Emery is responsible for engineering, mixing, and mastering Dim Times at his Anti-Corporate Music/Black Matter Mastering headquarters in Nashville, and the cover art/photography was handled by Ericka Poore.
Stream THETAN's Dim Times all digital providers HERE, and find the CD at Bandcamp HERE, and the CD the label webshop HERE.
Watch for updates on THETAN's new LP to drop shortly after the EP's release, and for news on other projects and collaborations to be announced in the months after.
Following their East Coast tour with labelmates Armagideon Time, THETAN continues to play frequently throughout their home region, with more extensive tour plans in the works for later this year.
THETAN Live:
5/31/2023 The Cobra – Nashville, TN w/ Goatwhore, Torsion
6/15/2023 Graveyard Gallery – Murfreesboro TN w/ Escuela Grind
7/01/2023 Bucket City Punk Fest 3 @ Graveyard Gallery – Murfreesboro, TN
"The title track kicks in with a guitar tone dirtier than the room on the cover art as it riffs a little hardcore bounce. Eventually, the song puts a boot up its own ass and gets running, all while Dan Emery's tortured scream rides somewhere between Mike IX Williams and John Brannon. What's more this is the rare approach for the style where the bass has a potent presence." – Last Rites
"The Nashville-based duo have built up an impressive discography of releases including LPs, EPs, splits, and unique collaborations, including Space Goretex with iconic rapper Kool Keith. Just last week, THETAN backed Keith's group, Ultramagnetic MC's, on a Record Store Day etched 12-inch single. Pretty gnarly." – No Echo
"Though their collaboration work tends to favor heavy, in-the-pocket rhythms and dissonant textures that gives their guest vocalists room to operate in, their standalone sound fills in all that space with sheer rabid insanity." – Invisible Oranges
"This is a good mixture of angry, energetic punk and tough feedback driven hardcore. The songs are brief but interesting and different enough from each other to warrant a full listen through and repeated listens." – The Razor's Edge
https://www.instagram.com/thetan_hc
https://thetan.bandcamp.com
https://anticorpmusic.com
https://facebook.com/anticorpmusic
https://www.instagram.com/anticorpmusic
http://www.blackmattermastering.com
The post THETAN: Dim Times EP From Nashville Powerviolence Duo Out Today Through Anti-Corporate Music; New LP To See Fall Release first appeared on Earsplit Compound.