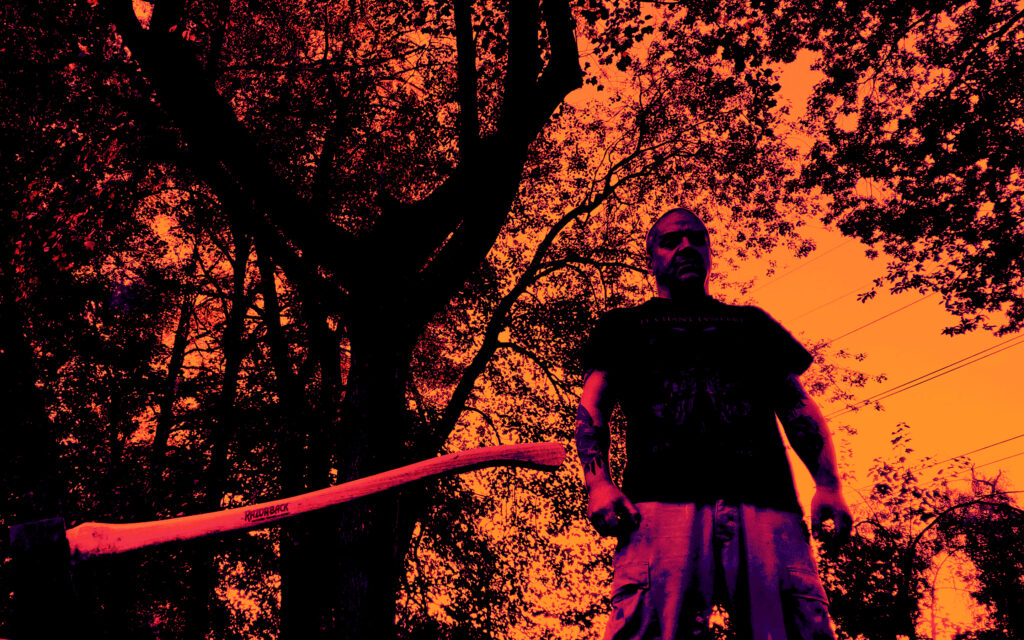 photos by David Brenner
"As postcards from the edge of insanity go, this is one of the most unsettling I've heard." – Sentinel Daily
Today, New York apocalypse renderer GRIDFAILURE unveils the caustic new Shards In The Wire EP.
GRIDFAILURE's Shards In The Wire sees the often collaborator-strewn endeavor void of any outside contributors, with creator David Brenner (Diminishing, ex-Theologian, ex-Heidnik) delivering a discordant and unstable solo performance. Fueled by post-industrial beats and unconventional percussion, tense and grating layers of synth, keys, bass, guitars, and more smolder in harsh noise and drone tinted in mournful horror score persuasion, while deconstructive powerelectronics and elements of nature swirl in the ether.
Wrought with layers of the expected GRIDFAILURE vocal savagery, lyrically and thematically, the songs on Shards In The Wire express nothing but dejection and loss. Duality mirrors physical actions and occurrences with inner, mental torment in "Upheaval Of The Foundation" and "Shards In The Wire," a sociopathic ire for humanity is manifested in "Skin Is An Organ" and "Corpse Refurbishment," one purposely wanders into the wilderness with no way or hope of returning in "Panic Azimuth," a deceitful split personality drama unfolds in "There Never Was An Aaron" – inspired by the finale of the film Primal Fear – and "I Lure Dig Far" plays on the project's moniker itself.
While not the most experimental, apocalyptic, conceptual, or extreme material of the of the vast GRIDFAILURE arsenal, Shards In The Wire is another thematically cohesive excursion into the underworld of music, delivering a primal and charring undertaking.
Shards In The Wire was performed, recorded, and mixed at The Compound in Valley Cottage, New York by David Brenner, who also handled the cover art, photography, and videos, with the final audio mastered by Dan Emery at Black Matter Mastering in Nashville, Tennessee (Ultramagnetic MC's, Steve Von Till, Krieg, Thetan).
GRIDFAILURE's Shards In The Wire is now streaming on all digital services including Bandcamp HERE.
Watch the videos for "Upheaval Of The Foundation" video HERE and "There Never Was An Aaron" HERE.
GRIDFAILURE's Shards In The Wire bridges the gap between the Sunyata Ontology collaborative album with Interstitia released earlier this year, and several new titles for 2024, including the first of several audiovisual records with Texas-based experimental drummer Pornohelmut, a collaborative album with Rhode Island-based mysterious dark ambient outfit Tovarish, and at the top of the new year, the massive third installment of GRIDFAILURE's Sixth Mass-Extinction Skulduggery concept album series featuring members of Today Is The Day, Vastum, Les Chants Du Hasard and a corresponding cassette box set through Nefarious Industries, and more.
Lower Hudson/NYC-based GRIDFAILURE is the audiovisual entity David Brenner, yielding dense, tension-filled output, with elements of dark ambient and dark hardcore, infused with jazz, world music, folk, harsh noise, electronica, punk, and more. Operating solo or with a cast of collaborators, the project has amassed dozens of independent releases, including collaborative albums, splits, and more. While GRIDFAILURE regularly releases material independently and through Nefarious Industries, the project will also soon release new records through Anti-Corporate Music as well as Today Is The Day founder Steve Austin's SuperNova Records.
https://linktr.ee/gridfailure
https://www.gridfailure.bandcamp.com
https://www.youtube.com/@gridfailure
https://twitter.com/GRIDFAILURE
https://www.instagram.com/gridfailure
https://www.facebook.com/gridfailure
The post GRIDFAILURE: Shards In The Wire Solo EP From New York Post-Industrial Act Out Today + Video For "There Never Was An Aaron" Released; Several New Records Due In 2024 first appeared on Earsplit Compound.